Getting Started With Roses (or "Seven Steps to Addiction")
All of us began this "pursuit of the rose" somewhere, but for those who only know a rose as the cut flower from the florist, we realize our web catalog can be somewhat overwhelming. So...if you'd like to try growing some roses in your garden, but don't know where to start, this page is for you. We will give you step by step instructions to help you determine which roses are right for your situation. Following the steps in order will narrow the field as you go, but you'll still have to do some research on your own, either in personal visits to rose gardens, or via books, catalogs or the internet.

Since our availability for consulting is limited we highly recommend that you join your local chapter of the American Rose Society or the Heritage Roses Group in order to learn from others who are further along the journey and happy to help.

We have yet to meet any rose grower who does not enjoy talking about his or her own experience with the Queen of Flowers!


Step 1: Know your Agricultural Zone.
Click on our link here to determine your zone. This chart is based on your average lowest winter temperatures, and since different classes or varieties of roses survive different winter conditions it's necessary to know this information so you won't buy a plant that won't live past your first year (unless you're willing to grow them as annuals, as some people do). You can also use this link to go to Garden Web's zone finder that asks for your zip code.

Step 2: Know Your Sun Exposure.
Study the area where you want to grow roses and determine how much sun will shine there during your growing season. Most roses love the sun and prefer full sun for a minimum of 4 to 6 hours a day to bloom well. If your area will get less than 4 hours of full sun then you'll have to restrict your choices to "shade tolerant" varieties. Hybrid Musks and some of the once blooming Old Garden Roses and Species do OK, with less than optimum sun. Also blooms with fewer petals can be coaxed to open with less sun and heat, like Mutabilis, a China rose:
No rose will grow and bloom in total shade or indoors. The only kind of rose for those situations is one in a vase.

Step 3: Know Your Planting Area and Growth Habit Preference.
Decide how large a space you want to plant with roses, and how tall you want those roses to be. Roses come in sizes that vary from the smallest rose in the world (5-inch Micro Miniature Si, left) to a 30-foot Climber (Mermaid, below). Approximate height by width size at maturity (e.g. 4 x 3 ft.) of each variety will determine how many plants you can put into your available space. Also, knowing the growth habit of each variety (rambler, upright, mounded, weeping, shrubby, etc.) will help determine what kinds of roses will provide the look you want in your garden.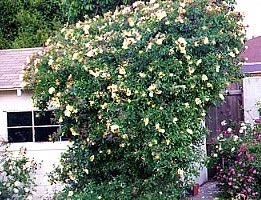 Step 4: Know Your Flower Preferences.
Rose flowers come in a wide range of sizes, colors, bloom form, bloom habit, and fragrance. The more you know about what you want, the easier it is to locate it in the 10,000+ rose varieties in commerce today. Rose blooms with 4 - 12 petals are called Singles, then there are Nearly Single, Nearly Double, Double, Fully Double, Loose, Pompon, Quartered, Flat, etc. Pictured at left, from the top left going clockwise, are Delicata (Hybrid Rugosa), Grüß an Teplitz (China), and Nevada (Shrub).

The "typical florist rose look" is described as "Double and High Centered" and found mostly in the Hybrid Tea and Grandiflora classes of roses. Here's Fire 'n' Ice, a Floribunda/Hybrid Tea, demonstrating the high-centered and double petaled side view: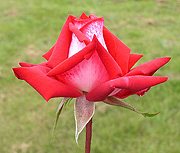 Other questions to consider:
What size blooms do you want? Nearly all rose flowers are between 1 and 5 inches in diameter. Typically the first blooms of the year on repeating varieties will be the largest with summer heat stress reducing the size in the next bloom cycle. Shown here: Louise Odier on left (Bourbon), La Reine (Hybrid Perpetual) on right.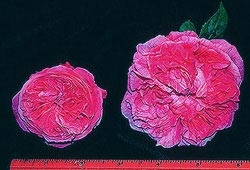 Additionally, small 1" to 2" flowers are found in not just the Miniature, but also the Groundcover, Floribunda, Polyantha, and Species classes. Here's Blossom Blanket, a Groundcover, and Showbiz, a Floribunda:

How important is fragrance and what type of fragrance (fruity, myrrh, rose, tea, strong, damask, clove, musk)?
Do you want the plant to rebloom all season long or have just one huge flush of flowers for up to 6 weeks (noted as "non-recurrent","once a year bloomers", or "one annual bloom")?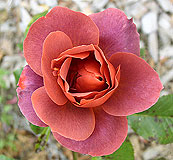 What colors or shades of color are preferred? How about striped or bi-colored blooms? Keep in mind that light quality and weather will have an effect on the bloom colors of your roses, especially ones like Hot Cocoa, left, and Double Delight, here:
Are stiff, long, upright stems important or is a nodding flower just as pretty? At left is the Old Garden Rose, Grandmother's Hat.
Would you like hips or colorful foliage for fall color? Most Species and Hybrid Rugosa roses are well-known for their hips. This photo is of Ballerina, a Hybrid Musk.

Do you want to plant own-root roses or grafted rose varieties?
Step 5: Know Your Tolerance for Disease
Some roses are highly disease prone and will not do well in certain climatic conditions without preventative measures. Other varieties are easy to grow and look healthy or OK without much effort most of the year. Ask yourself if you are willing to spray your roses with either organic or non-organic products on a regular basis (typically every 7-10 days) in order to have good-looking roses. If not, then talk to other rose growers in your area to determine which rose diseases (powdery mildew, black spot, rust, downey mildew) are prevalent in your climate and then look for varieties of roses that are resistant to those particular problems. Also, proper sun exposure and good air circulation will help reduce disease problems, so keep that in mind when picking out the spot you want to plant (i.e. In the Northern Hemisphere, any rose planted in the north-facing corner of a high solid fence is just asking for trouble because of the lack of sunlight and air circulation.)
Step 6: Know What Roses are Available Where
Armed with the above list of preferences you are now better prepared to shop. Check out some rose books from the library, take a stroll at a local nursery or rose garden, meet that neighbor who grows the one you want to have, talk to fellow rose group members, or spend some time on-line enjoying the many rose websites available, including www.HelpMeFind.com/roses . No one place will answer all of your questions so get used to the idea of researching multiple sources, along with getting some real trial and error experience in your own garden. It's all part of the process that makes rose growing such a fascinating and rewarding hobby.
Step 7: It's Time to Commit
At this point you're ready to find mailorder suppliers for the roses you want to grow, or you can buy what's available at your local nursery. Depending on your zone and when you can work your garden soil, you can purchase dormant bareroot roses January-May or purchase plants shipped year round in pots of planting mix. Contact your mailorder nurseries early for the best selection as most take pre-orders for plants to be shipped later at your proper planting time.
However you go about deciding what rose varieties you want to grow we wish you a most happy journey!

Copyright © 1997-2013 Amity Heritage Roses/Amity Rose & Garden Nursery™. All Rights Reserved.
Most of the images on this site have been reduced in quality to save bandwidth.
Both they and their full-sized, high quality originals remain the property of their creators.
They are copyright protected and may not be snatched, copied, duplicated,
reproduced or otherwise fiddled with without prior written consent.