USDA Zone Map and Temperature Chart

I looked and looked for a resource to help our customers determine their USDA planting zone. I found a great one someplace (can't remember now) where you type in your zip code and it told you your zone. Unfortunately, when I typed in our zip code the zone it gave was wrong! Oh well. I've looked at a few different maps and this one seemed to be the one with the most detail (like the state border lines, a big help!). Text and graphics below are from http://www.bulbsociety.com. Another source to check out is the National Arboretum's webpage. Their zone map is hyperlinked for greater detail of each state http://www.usna.usda.gov/Hardzone/ushzmap.html.

---

The United States Department of Agriculture (U.S.D.A.) has established Plant Hardiness Zones for the USA, Canada and Mexico based on analysis of the range of average annual minimum temperatures experienced in each area as recorded during the period 1974 through 1986. According to the U.S.D.A. temperature data book issued by Meteorological Evaluation Services Co. Inc. of Amityville, NY, "the purpose of this data listing is to enable one to determine the hardiness zone of any given city, town or location used in the map analysis as well as to provide the annual minimum temperatures over the 10-plus years for comparison with future weather."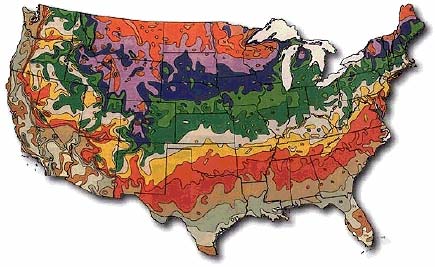 Copyright © 2005 Amity Heritage Roses